Our Teachers

We undertake a rigorous selection process to recruit faculty who are qualified and passionate about providing a quality education in Burundi. To ensure that teachers are able to meet this challenges, LOSKI's founder conducts ongoing training sessions to ensure staff competencies remain high.
Faculty members work in 'Teacher Teams' where teachers are accountable to each other and must work together to meet performance goals. They also conduct peer teaching with each other to collaborate on effective methods and potential improvements.
We are pioneering a Train the Trainer program for international teachers and other professionals to visit our campus to share their time and talent with LOSKI teachers and other Burundian educators.
Contact us for more information on our methodology or to volunteer at Lex Orandi School!
Meet the teachers & aides at Lex Orandi School de Kibenga
Aloys
Aloys is one of LOSKI's Teacher Team Leaders and the Year 2 instructor
Fabien
Fabien teaches Year 6 at Lex Orandi School de Kibenga and is a Teacher Team Leader
Pierre-Clavier
Pierre-Clavier is LOSKI's Year 5 instructor.
Claude
Claude is a Year 4 instructor at LOSKI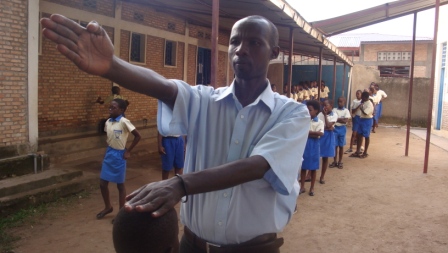 Gervais
Gervais is the Year 3 instructor
Emmaline
Emmaline is the Year 1 teacher at Lex Orandi School de Kibenga
Marie-Goreth
Marie Goreth is Lex Orandi School de Kibenga's Kindergarten teacher
Nadine
Nadine is LOSKI's Pre-K teacher
Immaculée
Immaculée is our nursery school teacher
Audace
Audace is a Teacher's Aide at Lex Orandi School de Kibenga
Domitien
Domitien is a Teacher's Aide at LOSKI